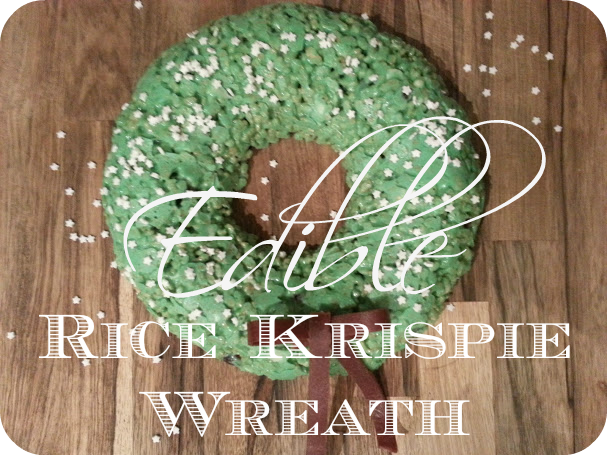 It's exactly one week until Christmas Day. One week! For me, work (in the employment sense) is starting to wind down and my thoughts are now well and truly turning to the big day.
We have our presents sorted, organised, wrapped and posted (where applicable), so we've nothing to worry about on that score. It's just the issue of food now. Not only are we making sure we have enough supplies to see us through until the end of next week but also that there are a few treats for us to enjoy too. It is Christmas after all.
So here, with a fabulous Christmassy recipe is Kelly from Domestic Goddesque. Not only does her edible Christmas wreath look yummy, this is a great crafty activity and one I shall definitely be trying out with Sophia.

Last year, I pinned some
delicious looking Christmas Tree snacks
, that were tasty but time-consuming. So when I needed Christmas Party Food in a hurry, I reworked the recipe into a less labour-intensive Edible Christmas Wreath.
Here's how:
Ingredients
3 cups Rice Krispies
1 bag marshmallows (about 200g)
55g butter 8 glace cherries
50g white chocolate chips (you could use mini-smarties or M&Ms)
Green food colouring (I use gel)
What you need to do
First, grease your bundt tin (if you don't have one, you can use a regular round spring-form tin with a recycled tin can (obviously clean) in the middle. Grease both. Put the Rice Krispies, together with the chocolate chips or smarties in a bowl. Add chopped cherries and mix so that the 'bits' are evenly distributed.
In the microwave (you can use a non-stick saucepan) melt the butter then add the marshmallows and cook for about 90 seconds, stirring every 30 seconds, until melted.
Immediately stir through the colouring then add to the Rice Krispies. You have to work fairly fast as the marshmallow goo cools quickly. Blend wet and dry thoroughly then tip the green mess into your prepared tin. Press down firmly to form the wreath shape- use a silicone spoon, or a well-greased hand, so the marshmallow doesn't stick.
Leave in a cool place (the fridge if in a hurry) to set, then turn out onto a serving tray. You can serve as is, but I added star sprinkles, and a bow made from a Bear snack. Fruit Roll-ups would work just as well.
Kelly is the face behind the vintage silhouette at Domestic Goddesque. She eats too much cookie dough to have a waist that small. She is a Thirty-something Mother, Blogger and Girl Friday, who married her beloved DH and endures daily battles-of-will with the dog she refers to as the Wonder Hound. She likes to avoid housework as much as possible, preferring to bake, craft and drink cocktails. Sorry, did I say cocktails? I mean coffee. And nap. She likes to nap too. When not blogging, you can find her haunting Facebook for interesting snippets of gossip, or throwing her wit around the twittersphere (she may have made that last bit up too: she's not that funny).